Takasegawa-tei Facilities
Facilities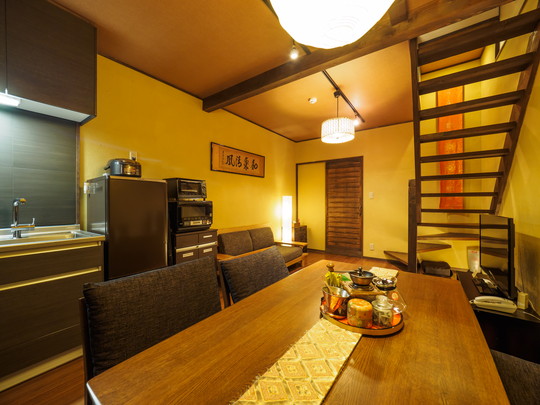 Living and Dining room
Takasegawa-tei Facilities
---General facilities---
Bedding for 5 futons, Air-conditioner/heating in all rooms, Japanese style modern shower room.
Luxury toilet, Free WIFI, Direct telephone line to the K's Villa office.

---Kitchen facilities---
Electric cooking stove, Refrigerator, Microwave, Toaster, Electric kettle, Pots, Pans, Plates, Cups, Glasses, Kitchen utensils and Basic seasonings and spices.

---Bath amenities---
Hair dryer, Bath towel, Face towel, Hand towel, Shampoo, Conditioner, Body soap.
Men's amenity set: Toothbrush, Body sponge, Razor, Comb.
Ladies' amenity set: Toothbrush, Body sponge, Hair band, Beauty set.

*We do not provide night clothes/ pajamas, please bring your own.


Layout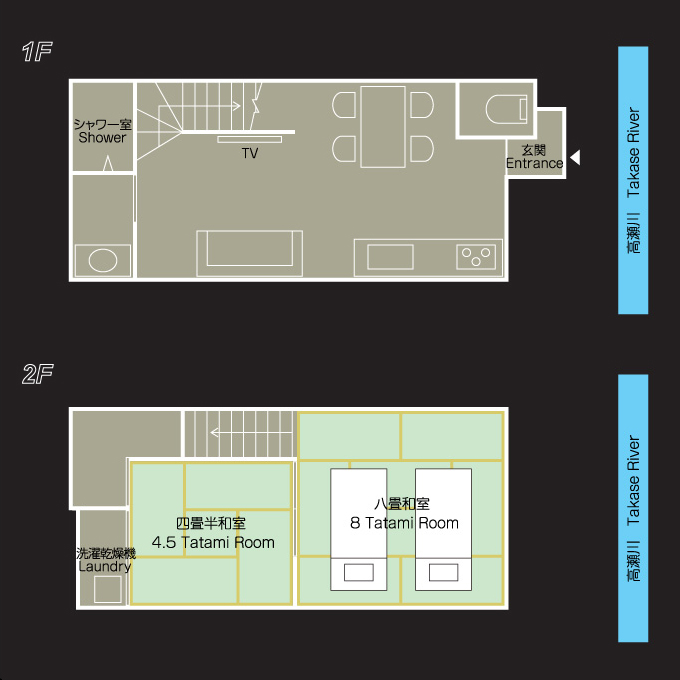 Gallery
Living and Dining room
2F:8 tatami room with river veiw
2F:4.5 tatami room
Wash room
Shower room
2F:Toilet
Night time appearance
Entrance
Coffee
Kitchen
Electrical cooking appliances
Sofa
Television
Takasegawa-tei Reservations
Free Cancellation until 2 weeks before
Availabilities
Availabilities
Free Cancellation until 2 weeks before